Care and Cleaning for Your Inflatable Equipment.
Proper Care.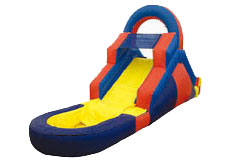 There are some simple directions to follow in order to give your inflatables their maximum life. A shaded and cool storage area will help protect your inflatables from the effects of weather. Heat, direct sunlight and water can be damaging to the materials used in their construction. You should fully dry any wet unit before storing it for an extended period of time. If stored wet, mold and mildew will grow and this will cause the inflatable to reek of unpleasant odors. The vinyl also has the potential of becoming permanently stained with mold. You should also take care when transporting your inflatables. Never drag them across rough surfaces or over sharp objects.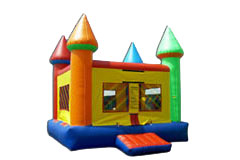 Proper Cleaning.
The appearance of your inflatables is a direct reflection on your business. Having clean rentals is a key part in providing quality customer service. Cleaning your vinyl inflatables is a simple process. If the circumstances allow, you may attempt this at the rental pickup location. Otherwise, you will need a location to re-inflate them to accomplish this. Once the unit is inflated go inside and remove any large objects that may be present. Then using a smaller shop vac or other portable type vacuum, remove all other smaller debris. A crevice tool can help in reaching around pillars and in surface seams. Then, depending on how the surface looks, you can use either Matt-Kleen or Simple Green to finish up the inside cleaning process. You should check your manufacturers recommendations before using any cleaning formula. You should also clean the outside of your units in a similar manner.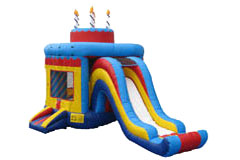 Proper Sanitizing.
Once you have properly cleaned all vinyl surfaces you should use an appropriate disinfectant. Germs and bacteria may still be present and a sanitizing disinfectant will help rid your units of them. Lysol or Clorox sprays make sanitizing easily done.
Business Resources:
Start a bounce house business will update periodically. Check for updated information at your convenience.
Contact Us:
info@startbouncehousebusiness.com
Limit of Liability
Disclaimer of Warranty